Rodrigue Peintre can realize a wide-range of interior and exterior painting projects.
We carry out all necessary preparations in order to obtain optimal results: Blastrac blasting, scarifying, diamond grinding, hammering, lowering, repair of concrete slab, slope correction, sealing treatment with reformulated floor; decontamination, high pressure cleaning, sandblasting, degreasing; repair of gypsum, joints, stucco, etc. Our services include waterproofing, dyeing, stripping, fireproofing, high-pressure washing, upholstery, electrostatic painting, painting at heights, etc.
Rodrigue Peintre has become and expert, and set high standards in the construction industry, with its superior techniques in the installation of floor coatings. The MMA  (methacrylic) system, which includes quartz, flake or self-leveling, offers a much better performance than epoxy coating.  This system makes it possible to use the floor in as little as two hours after its application.  In addition, this particular floor system provides resistance to 'wear and tear' for such things as acids, alkalis, fats, and oils and can handle temperature fluctuations.
Our company has a division 'Division Plancher' dedicated to the installation of various industrial floor coatings.  Our floor layers are recognized for their technical knowledge, exceptional skills, and exclusivity to the floor business.   We work with epoxy installation (regular, quartz, flakes and 100% solid), polyurethane, MMA anti-bacterial floor covering, anti-slip, clean room, baseboards, shelves, low walls 45⁰. Our expertise is in membrane flooring, lineage, anti-graffiti, noxide, fireproofing, antifungal, etc.
---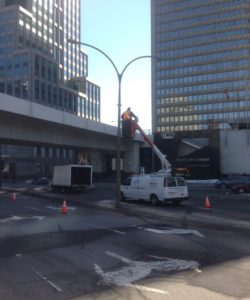 Interior and Exterior
Plastering, Stucco and Joint Repairs
Regular, airless, and electrostatic paint guns
Painting of Steel Structures
Painting at Height
High Pressure Cleaning
Dyeing
Anti-fungus
Anti-Graffitti
Supply and installation of Wall Paper
Application of anti-odor paint, following a disaster
Painting: Interior and exterior painting projects for residential, commercial, institutional and industrial customers
Flame Retardant Products: To prevent fires in high-risk areas.
Industrial Floors: Dedicated team of floor layers install Epoxy, Polyurethane and MMA anti-bacterial floor coatings.
Dyeing: Popular for Balconies, Staircases, Fences etc.
Waterproofing: A process that prevents and stops water infiltration into the porous structure and micro cracks. Prevents cracking and cracking caused by the penetration of water, salt, and rain. This Technique does not change the appearance of the surface and the water repellent allows the materials to breathe.  Procedure can be guaranteed up to 10 years.
Garage floor: Rodrigue Peintre has managed to improve the experience of the garage 'man cave' with the installation of industrial floors which are beautiful, multicolored, durable and anti-slip. Customers can choose from a variety of "flake" colors as well as choose the type of floor according to their individual taste and budget.
High Pressure Cleaning: We are able to wash your home or cottage at high pressure before painting or staining to help ensure a quality finish.
Layer Removal: This technique removes impurities from a surface or coating, for example a paint coat.
Tapestry: Installation of Wallpaper.
Electrostatic Painting: Paint charged with positive static electricity. This technique consists in propelling the paint by means of a gun and being attracted by the surface to be painted previously charged with negative energy. This technique reduces paint particles in the air as well as the amount of paint to be used.